Industrial Roller Mill can be divided into experimental industrial roller mill and Production Industrial Roller Mill. Industrial Roller Mill is suitable for coating, ink, pigment, plastic, and other slurry manufacturing.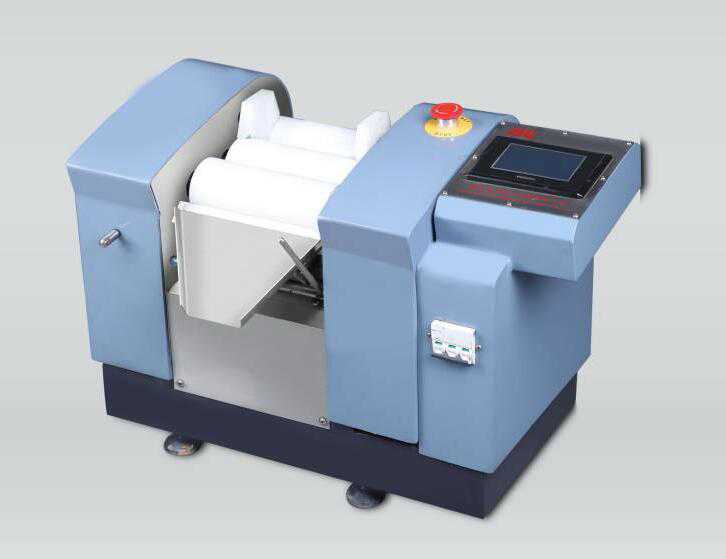 Structural features:
Industrial Roller Mill has three rollers, which are mounted on an iron frame centered on a straight line. It can be installed horizontally or slightly inclined. Grinding is accomplished by extruding the surfaces of the three horizontal rollers and rubbing them at different speeds. The steel rollers can be hollow and can be cooled with water. Feed between the middle roller and the back roller. Due to the rotation direction of the three rollers is different (speed increases from back to front in turn), the grinding effect is very good. The ground material is scraped off by the scraper in front of the front roller.
The roller of an industrial roller mill is usually made of chilled cast iron centrifugally cast with a surface hardness of over HS70 °. The roller diameter is ground with high precision, and the grinding fineness is up to 15 microns, which can produce uniform fine quality products.
Production of graphite in industrial roller mill
1. Industrial Roller Mill is a high strength, high wear resistance, and high toughness grinding machine. Therefore, in the ink production process, three roller mills (industrial roller mills) will not affect the performance of the roller due to external pressure and temperature.
2. Industrial roller mill roll diameter with a high finish. Therefore, it grinds accurately, fine, may cause the ink material the grinding fineness to achieve 5 microns below, may produce the uniform fine quality product.
3. The industrial roller mill and its drivetrain are also distinctive. Multi-line sprocket soft start. Therefore, high transmission efficiency, stable operation, and no noise. In addition, Industrial Roller Mill uses a series of handwheels and screws to adjust the roll pitch, making the operation simple, accurate, and convenient. This is just right for ink production.
4. Industrial Roller Mill adjusts the clearance between rollers by adjusting the flat handwheel screw. It also adjusts the grain size of the abrasive. Therefore, the process of grinding ink is simpler and more convenient.
5. Industrial Roller Mill has a cooling system that disperses the heat generated by the rollers as they work.
Industrial Roller Mill Instructions:
1. Do not knock, or scratch the surface of the roller, strictly prohibit all kinds of metal and hard impurities into the running roller.
2. Working temperature range of drum: ordinary type:-5 °C ~ 100 °C/heating type: 20 °C ~ 220 °C.
3. The sharp angle of the baffle plate is forbidden to scratch, and the contact pressure with the roller surface is proper when adjusting. If the contact is uneven, there is an overflow. The curved surface of the baffle can be scraped and repaired.